Distribution of outgoing documents by email, secure email, PEPPOL or by regular letter (prior and non-prior).

Qualified service for electronic and hybrid registered delivery in accordance with Regulation (EU) 910/2014 (eIDAS Regulation).

Digitization of incoming paper mail, OCR/indexing, archiving and digital distribution throughout the organization.
Document distribution
We provide you solutions for your outgoing correspondence via email, secured email, PEPPOL, regular letter and eIDAS qualified registered delivery.

You provide us digitally with the documents you want to send via our web portal or in bulk via our API, and we ensure that they are delivered via the channel of your choice.

In case of delivery by e-mail, you can personalize the layout of the e-mail with your own logo and theme color, as well as have the e-mails sent from your own domain name. Optionally, you can secure the message. In that case, the addressee will receive a 6-digit code by SMS, which must be entered on the screen before the document can be downloaded. This way you can be sure that the document can only be opened by the intended recipient.

For the delivery on paper we use professional printing equipment where you can also provide the envelope with your own logo.

We also have an e-invoicing solution via the PEPPOL network, as we are recognized as a Certified PEPPOL Access Point.

Registered delivery
Via our eIDAS qualified service, Electronic Registered Delivery can be exchanged between sender and recipient without any "paper interference", and this with the same legal value of traditional registered post.

In addition to electronic registered delivery, the DigiConnect platform also provides a hybrid alternative whereby the sender prepares and submits the registered delivery electronically on the platform. We then print it, add an envelope and postage and present it to bpost for delivery via traditional registered mail.

Whichever option you choose, you can save time and skip the post office when sending registered post. Your registered sending can be submitted electronically 24/7, so that you no longer depend on business hours. No need to restock the printer, gather envelopes and travel to the post office.


All of this at competitive rates. An Electronic Registered Delivery costs a fraction of the price of traditional post. For the hybrid option, you benefit from preferential rates on the postage costs. A small handling fee applies for material (paper, envelopes, ink) and handling. Taking savings on prior postage, paper, ink, envelopes, printer wear, transportation costs and the loss of time into consideration, your costs will be reduced.
Partnership with Doccle

Are you a company and do you want to send registered mail via Doccle? Thanks to the collaboration between Connect Solutions and Doccle, you can send registered mail via Doccle, the largest digital administration platform in Belgium with more than two million subscribers.
Click here for more info.
How does an Electronic Registered Delivery work?
01

Submit message
You submit the message with a subject, body text and/or one or more PDF attachments.
02

Notification to the addressee
The addressee will receive an invitation by e-mail and/or SMS to accept and collect the registered delivery in electronic form.
03

Collect electronic registered delivery
The addressee identifies with eID or itsme®. After successful identification, the message can be downloaded.
04

Fallback-to-paper
If after a number of days (to be determined by the sender) the addressee has not yet collected the registered delivery electronically, it will be converted to a hybrid registered delivery where it is presented to bpost for delivery via classic registered letter.
Digital mailroom
You can have your incoming mail digitized by us via this service.
Scan and digitize your incoming mail
You get your incoming mail forwarded to our location, for example via the forwarding service of bpost. In first instance we do the preparatory work in which we remove the mail from the envelopes, remove any staples, etc... Then we divide your mail between scannable and non-scannable mail. Non-scannable mail pieces are all mail pieces that are not loose-leaf or cannot be made loose-leaf, including advertising magazines and printed matter, or have a format larger than A3. The scannable mail is then scanned. For this we use high quality equipment. A digital seal and timestamp is added to each scanned document. This guarantees that no unnoticed changes can be made to the document during the entire retention period. We then deliver your mail digitally. This can be done at a secure sFTP location, or via an API where the digital mail ends up directly in your document management system or digital archive. If you use the DigiConnect platform, the documents can be prepared there for further processing in the incoming mail processing module (see below).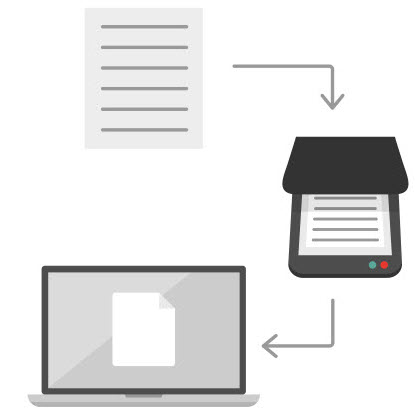 Return scanned and non-scannable documents
We determine together with you what should be done with the physical scanned mail and non-scannable mail. We can destroy, archive or return it to you. In the latter case, you determine at what intervals the documents should be returned. If we archive the mail for you, we keep it in a secure environment. If documents are destroyed, they will be destroyed according to the procedure for confidential paper.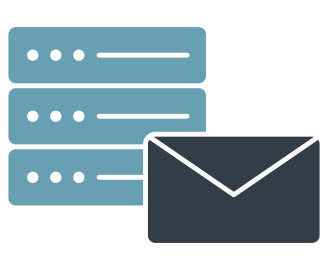 Incoming mail processing module
The digital mailroom module of DigiConnect allows you to index and route incoming mail that has been made available digitally by us (see above), or that you have scanned or uploaded yourself, throughout the organization. The persons to whom the mail has been allocated can consult their mail pieces in their personal mailbox on the DigiConnect platform.

1. Indexing
In this section you provide the documents with metadata (eg document type, document date, sender,…), manually or automatically using OCR. You then assign the documents to a department. You can easily manage the document types, metadata per document type, departments and users per department.

2. Consult documents / Export to ERP or accounting package
The persons to whom the mail has been allocated can consult the mail pieces in their personal mailbox on the DigiConnect platform. For example, if a document is assigned to a department to which three users are linked, these three users will see the document in their personal mailbox. The mailbox indicates whether a document has already been read or not and you can filter documents by document type/metadata and search for documents based on metadata. You can also choose to export the indexed documents, such as invoices, to your ERP or accounting package for further processing.
Create your account
After completing the onboarding procedure, you can get started immediately.
Frequently asked questions (FAQ)
What is the legal validity of an electronic registered delivery?
Electronic registered delivery exchanged via our service hold the same legal value as physical registered post, owing to the service's eIDAS
qualification
.
Electronic registered delivery via a
qualified
service for electronic registered delivery are not only legally binding, but also benefit from the assumption of the integrity of the information, sending of the information by the identified sender, receipt of the letter by the identified recipient and the accuracy of the date and time of delivery as indicated by the qualified service for electronic registered delivery.
Electronic registered delivery via a
non-qualified
service do not, however, benefit from the same assumption of integrity and authenticity and these, together with the fact of whether the letter was sent/received, would have to be proven to the courts in the event of a dispute.
References:
certificate of conformity, general conditions, privacy statement, Belgian trusted list
,
eIDAS regulation
Does the person or company to whom I want to send a registered delivery also have to be registered?
No, the addressee does not have to be registered on our service. Legislation dictates that an addressee cannot be forced to accept registered post in electronic form. Only when this addressee has agreed to receive registered deliveries in electronic form do all legal stipulations of registered post apply. Taking this into consideration, two scenarios are provided on the platform:
The procedure that applies when the addressee is
not registered
as receiver on our service, is explained in section
"How does an Electronic Registered Delivery work?"
above.
If the addressee is
registered
as receiver on our service, he/she has agreed, by accepting the general terms and conditions, to receive registered delivery in electronic form. In this case, you can submit the registered delivery, and this will be delivered directly into the account of the addressee. A legally binding "proof of delivery" is available for download. The addressee has 14 days to confirm receipt of the delivery. After receipt has been confirmed, "proof of receipt confirmation" can be downloaded. If the addressee does not respond within 14 days, the letter will receive the status "expired", but you will still hold the "proof of delivery" which can be used in the event of a dispute.
Are your services also available to private individuals?
The service for sending electronic registered mail, hybrid registered mail, regular outgoing mail and (secure) e-mail is available for private individuals and companies.

The service for scanning and digitizing incoming mail as an outsourcing service is only available to companies. As a private individual, you can use the incoming mail processing module on the platform where you can scan or upload, index and archive your incoming mail yourself.


We want to use your incoming mail scanning service. How do we get our mail to you?
Please contact us for this. We will then, together with you, go through the steps necessary to initiate the process.


You can download our standard price list via the following link:
Download price list
.
Discounts apply in case of large volumes. In that case, please contact us for a customized quote.
When creating the account and paying the one-time activation fee, you give a mandate to collect the actual usage periodically via SEPA direct debit. For companies and on request, payment can also be made by bank transfer.


We wish to set up an integration via API with an existing accounting or ERP package. Is that possible?
Yes, this is possible. Please contact us about this.
This is to find out how best to set up this integration depending on your situation.